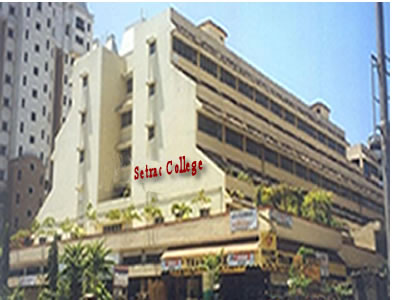 VALUE ADDED COURSES

ABOUT SETRAC COLLEGE

Setrac caters to the specialized training needs of offshore oil an gas industry. The institute is approved by Director General of Shipping, Govt. of India.  It has the distinction of of being  the only institute in India which has ISO Certification for development and conduct of offshore training.The courses are conducted by a highly qualified and experienced faculty who have themselves worked in various capacities in the offshore Industry. All STCW courses are approved by DG Shipping.The college has no branches or Agents.

For Booking your cours send us email on

booking@setrac.in

DG SHIPPING APPRO

VED STCW 2010 COURSES

COURSE

FEES

COURSE

FEES

COURSE

FEES

Basisc Safety Course

7900

SECURITY TRAINING

1200

PSF

2400

PCRB

3500

OCTFC

2900

GTFC

3500

MFA

3500

SSO

2500

LOWEST FEES

DORMITORY ACCOMODATION -RS 140 PER DAY

DP Course

Setrac is offering NI Accredited Dynamic Positioning Basic (Induction) & Advanced (Simulator) course. The college also conducts DP Maintanance course for ETOs and Engineers at 30% discount For further details Click Here

For booking the course Contact - 022-27564299 or email booking@setrac.in

DYNAMIC POSITIONING COURSES

Course

Regular Fees in INR

Regular Fees in USD
Course Fees after Discount in INR`

Course Fees after Discount in USD

DP Induction (Basic)

INR 60,000

USD 1000

INR 24000 (29000 with Accomodation & Food)

USD 380 (425with Accomodation & Food)

DP Advanced (Simulator)

INR 80,000

USD 1350

INR 29000 (32000 with Accomodation & Food)

USD 425 (485with Accomodation & Food)

DP Maintenance

INR 85000

USD 1400

INR 29000 (32000 with Accomodation & Food)

USD 425 (485with Accomodation & Food)

OIM , STABILITY BALLAST CONTROL & BARGE SUPERVISOR COURSE

These course are conducted in accordance with IMO Guidelines and are approved by LISCR (Liberian Administration) & Ospa.
Issue of License (Certificate of Competency) Setrac is approved by LISCR as the authorized examination center. Liberian administration will conduct exam only if you are working or joining a Liberian registered vessel. The examination fees has to be paid directly by your company on your behalf to Liberian Administration. On completion of the course, the candidate can apply to LISCR to undergo examination for award of COC. Setrac will invigilate the examination and send the answer sheets to LISCR for assessment and issue of COC.
The eligibility for these courses are attached with this mail. Personnel undergoing the Liberian approved course can apply to Liberian Administration for appearing in the exam and obtain Liberian Licenses (Certificate of Competency) as Barge Supervisor.